This photo was in planning of videos that were projected onto the Monterey Conference Center for First Night Monterey in Dec. 2014. FNM was inspired to promote ocean conservation and their theme for two years was Sea Changes and Sea Changes Sequel.
---
Sea Changes Documentary Coming Soon . . .
by Kira Carrillo Corser
Founder Kira Corser, is beginning to edit video and add photos into a Sea Changes documentary on the first 4 years of the project!
New developments and new participants and partnerships are happening: Qinqin Liu Ph.D Art/Scientist, a biologist, environmental scientist and painter has joined Sea Changes to form a Global action network with new scientists and artists.
Kira is video recording, photographing, and teaching art in a prototype program titled Climate Kids – designed with Amber Paris, Ph.D. for the California Fish & Wildlife. The goal is to encourage elementary students to be "Stewards of the planet and promote conservation of the oceans.
Artists, Roxanna Marie Sullivan and Isabelle Guibert are volunteering to help the kids paint silks and record stories about why they care about climate change, saving the oceans, and protecting ocean life.
These artworks and videos will be shown in Saint Louis, for the National Climate Change Forum in May, along with Silk paintings from Kira and Marjorie. 
LESSON PLANS FOR CHANGE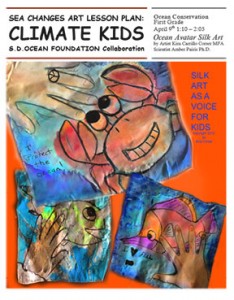 Contact us if you want to buy a lesson plan for $1.99, comes with a video instruction on painting silk with child friendly paints. Just type "Lesson Plan" in the subject line when you email us.