The Jellies Forever Installation Project
by Debb Solan, and Marjorie Pezzoli
The Jelly fish, made of recycled plastics, were originally made for Sea Changes ACT. The installation was created by Debb Solan & Marjorie Pezzoli, aka "The Jellygirls".
This project started in 2011 with a "Call for Artists & Scientists" from the San Diego Visual Arts Network, SDVAN. It continues to evolve to this today.
They are making more of their beautiful jellyfish for the Discovery Center in Chula Vista, California. Earth Day 2015 activities are also planned.
"The DNA of Creativity" came from the brilliant mind of San "Diego Visual Arts Networks Founder Patricia Frischer. Ms. Frischer is dedicated to growing the arts community and creating collaborations with local business & science.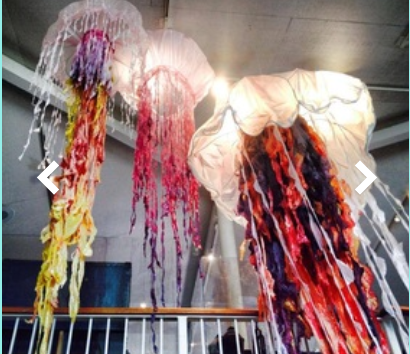 The "Sea Changes: ACT! Team is one of four teams taking part in the project. Each team consists of a number of Artists and Scientists. The goal of the overall project is to bring collaborations between the arts and science. Fostering awareness to issues affecting our ecosystem, and to instigate innovative research and create positive change.
Addressing the issue of plastic pollution artist Marjorie Pezzoli & I created the Installation "Jellies Forever" for the Museum of Monterey in Northern California. Using donated plastic painters tarps, grocery bags and salvaged plastic wrap.
The destruction of our oceans due to escalating plastic pollution, over fishing, and climate change are largely hidden under water, so not visible to the average citizen. Our goal is to (enticingly) make these destructive changes visible, more understandable and more emotionally connection to encourage action.
"DNA of Creativity is comprised of four separate projects involving 40 collaborating artists, scientists and educators in effort to promote new ways of viewing the world and enhance the viewer's perception of creativity. On display at the Oceanside Museum of Art through August 4, 2014, this diverse exhibition was the culmination of a multifaceted project initiated by the San Diego Visual Arts Network in 2011." – Kay Colvin, The Coast News www.thecoastnews.com
Check out their new website www.thejellygirls.com